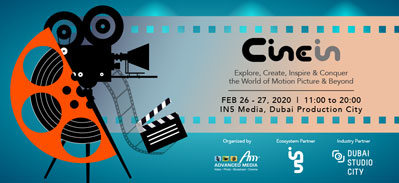 Advanced Media, in collaboration with IN5 Media and Dubai Studio City, cordially invites you to Cine In, a 2-day open house event showcasing latest in digital cinematography and professional video products with interactive networking events, seminars, and training courses conducted by the experts of the industry designed for the community of cinematographers and filmmakers in the region.
Event Details:
Venue: IN5 Media, Dubai Production City (
map
)
Date: February 26 & 27, 2020 (Wednesday & Thursday)
Timing: Open House - 11:00 am to 8:00 pm
Workshops timings mentioned below
Registration for the courses is free of charge
Course outline:
This first workshop will focus on having a clear understanding on how to engage projects from a technical point of view. No matter the size and budget of a project, it is always not easy to choose the right gear that will allow you to accomplish successfully a project. We will explore functional setups from one-army-man to full size studio production loads-out, depending of the project. Learn how to make the most cost-effective decisions based on your skills.
Choosing the right setup structure for your project
Choosing the right camera DSLR vs mirrorless vs Cinema Camera
Choosing the right lenses and third-party camera accessories
From one-man-army setup to full size production load-out
Third party accessories: wireless follow focus, wired/wireless monitoring, mount extensions, tripods, monopods, etc…
Confirming your crew according to your equipment load-out
----------------------------------------------------------------------------------------------


Course outline:
Importance of High-Quality Audio in films
Awards won by Sennheiser
Methods of Audio capturing for films
3D Audio Recording (For youtubers)
Microphone Choices
----------------------------------------------------------------------------------------------

Course outline:
Zeiss Supreme Prime Show Reel : Short films shot with different ZEISS lenses (CP.3, Supreme Prime and Supreme Prime Radiance) will be screened
Artistic Look with Zeiss Supreme Primes : artistic intent of the images as well as the way to realize them
Zeiss Cine Lenses Line ups: The different options offered by the ZEISS lenses to create different image looks will be reviewed and linked to the films screened.
Hands On : A touch and try session will allow the participants to appreciate the differences by themselves.
----------------------------------------------------------------------------------------------

Course outline:
History of RED
Sensors & Bodies (DSMC2 & RANGER)
Why 8K?
RAW & The Capabilities
IPP2 & What's new with RED's latest colour processing pipeline
REDCODE & Data
Workflow & Playback
----------------------------------------------------------------------------------------------

Course outline:
Introduction to HDR technology
How to capture HDR? Which cameras are able to capture HDR?
LOG vs RAW vs Apple®ProRes
Case Study: Setting-up a cinema camera for HDR
HDR vs HDR10 vs DolbyVision, what's the difference?
Understanding Luminance, dynamic range, color space and bit depth
Monitoring HDR
Understanding the different formats and monitoring options on the market
----------------------------------------------------------------------------------------------

Course outline:
Product Introduction
APP Control and Features
Mounting possibilities
Tips and tricks
Q & A
----------------------------------------------------------------------------------------------
Hotel Recommendation for International Participants
This Hotel is located in walking distance from the Venue
For booking with special rate please contact Jhodette Ricalde from Occidental Hotel
[email protected]
| + 971 4 246 4500
----------------------------------------------------------------------------------------------