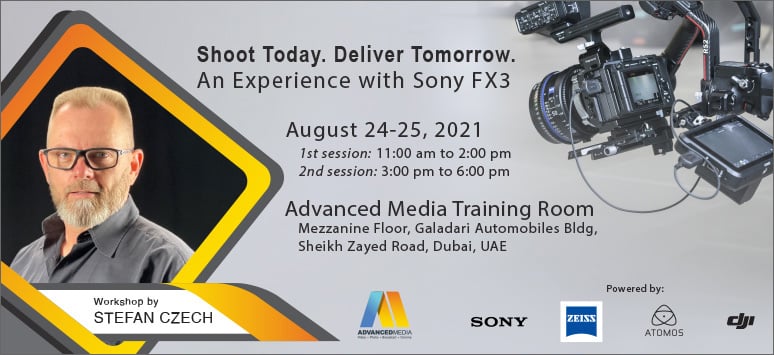 From: August 24, 2021 11:00 AM to 2:00 PM - 3:00 PM to 6:00 PM
To: August 25, 2021 11:00 AM to 2:00 PM - 3:00 PM to 6:00 PM (Past Event)
Venue : Advanced Media Training Room, Mezzanine Floor,
Location: Galadari Automobiles building (Mazda Showroom), Sheikh Zayed Rd. (Map)
Advanced Media would like to invite you "Shoot Today, Deliver Tomorrow", An experience with Sony FX3 workshop by Stefan Czech on August 24th and 25th at Advanced Media Training Room. Stefan Czech, German DOP and filmmaker, will focus on making the story board based on the budget, location, schedule, equipment and production team, and choosing the right filmmaking tools such as camera, lens, gimbal, lights, sound and monitor for the story.

The workshop will have an in-depth review on the following topics:
Advantages of using a top level camera like Sony FX3
Comparison of Sony FX3 and Sony A7S III, and their features for One Man productions
Benefits of using high end lenses such as Sony GMasters and Zeiss Compact Prime.
Advantages of using Atomos Monitor/Recorders to get the best quality out of the camera
Benefits of using DJI Gimbal stabilizers for better camera movements
The workshop will be held in 2 sessions per day followed by Hands-on and Q&A after each session.
Kindly note that registration is mandatory due to Covid-19 precautions. There is a booking of fee of AED 200 which will be refunded to the participants at the registration desk.