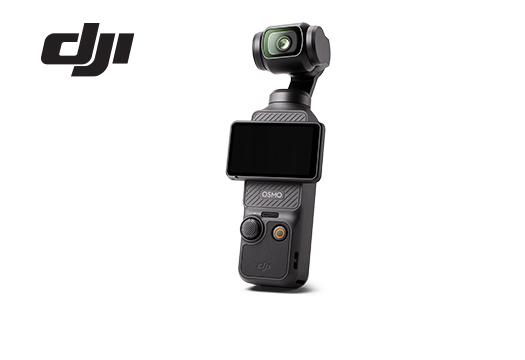 DJI Osmo Pocket 3 | 1" CMOS Pocket Gimbal Camera
The all-new Pocket 3 features a powerful 1-inch CMOS sensor that puts detail-rich imaging right in the palm of your hand. With a 2-inch rotatable touchscreen and full-pixel fast focusing, go horizontal or vertical for more precise awareness and control. 4K/120fps, three-axis mechanical stabilization, and a host of intelligent features make Pocket 3 ready for any moving moment Pocket 3's powerful 1-inch CMOS sensor captures clear highlight-shadow details. Its superior optical performance enables a significant leap in image quality, providing reliable low-light performance.
Film in 4K/120fps to capture experiences in dynamic, incredibly smooth detail and magnify every breathtaking moment in slow motion. Through specialized image quality optimization, Pocket 3's night shots bring low-light scenes to life with clarity and authentic color. Pocket 3 fine-tunes the exposure for different skin tones to achieve direct output with a clear and glowing complexion. Be ready to steal the spotlight any time you're in the frame.
For more information visit: https://www.amt.tv/dji-osmo-pocket-3-creator-combo.html