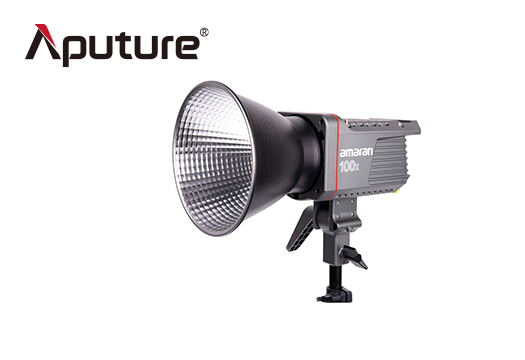 Aputure Amaran 100X Bi-Color Point-Source LED
The Amaran 100x is a bi-color point-source LED fixture with stunning brightness, flexible color temperature control and wireless Bluetooth app control. Amaran provides the perfect line-up of fixtures for content creators, portrait photography and video production.
When it comes to lighting, output is like horsepower. Using cutting-edge LED technology, the Amaran 100x uses its 100W COB LED output to create an equivalent to a 400w tungsten light. It also features 0% to 100% dimming control to ensure that you can always find the right level of illumination for your scene. Meet the brightest (and darkest) light in your kit.
Speed and portability matter. Featuring all-in-one housing, the Amaran 100x is a fully integrated fixture making it one of our easiest studio lights to adjust and transport. The total weight of the kit is only 3.45 kilograms (7.6lbs) and the built-in fan ensures that the LED remains cool no matter how long your shoot goes on for.
The Amaran 100x uses a Bowens Mount meaning that it can be transformed to take on the quality of almost any light. Whether you need soft light, hard light or even a spotlight, the accessory mounting system of the Amaran 100x means that it is compatible with almost all Aputure lighting modifiers like the Light Dome, Fresnel or Lantern.
For more information visit: https://www.amt.tv/aputure-amaran-100x-bi-color-led-light.html