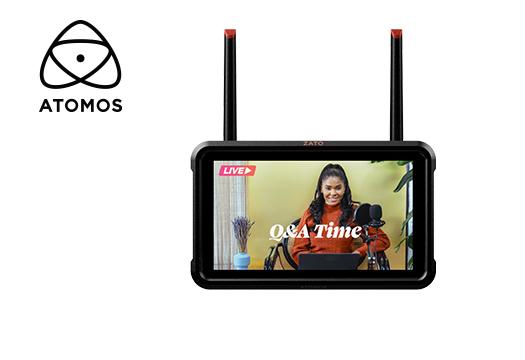 Atomos Zato Connect | Stream From Anywhere
ZATO CONNECT has been designed to act as a compact, easy-to-use gateway to ATOMOS Cloud Studio. The device supports nearly all HDMI and USB UVC sources to livestream to Facebook Live, Twitch, YouTube, and other social sites, or can be used to create a webcam source for Microsoft Teams, Slack, Zoom, and other conferencing software.
The implementation of the AtomOS Lite software provides an intuitive and easy-to-use experience for new customers. The software includes all the essential tools, so it feels familiar for existing customers too. With a compact form factor, the SuperAtom IPS 5-inch (1000nit) display, Wi-Fi 5, USB-C, and Ethernet (via USB-C adapter) connectivity, as well as, NP-F battery or USB-C PD power options, ZATO CONNECT is an ideal companion for livestreaming in the field, the studio, or wherever else it travels.
Livestreaming and high-quality video conferencing is made easy and accessible with ZATO CONNECT. With support for HDMI and USB UVC cameras or video sources, the device is equipped with Wi-Fi 5, Gigabit Ethernet (via USB-C), and the ability to join cellular hotspots, everyone can stream to Facebook Live, Twitch, and YouTube, or create high-quality video for Microsoft Teams, Slack, and Zoom from anywhere.
For more information visit: https://www.amt.tv/atomos-zato-connect-atomzatc01.html